Exhibition Tent Introduction
An exhibition tent is a type of temporary structure that is used to showcase products, services, or information at events such as trade shows, fairs, and exhibitions. These tents are typically made of lightweight materials such as fabric, PVC, or vinyl and are designed to be easy to assemble and disassemble.
Exhibition tents come in a variety of shapes and sizes, from small pop-up tents to large custom-built structures. They can be designed to be open-air or fully enclosed, depending on the needs of the exhibitor and the event.
Some of the benefits of using an exhibition tent include the ability to create a unique and eye-catching display, the flexibility to customize the layout and design, and the convenience of being able to set up and tear down the structure quickly.
In addition to being used for exhibitions and trade shows, exhibition tents can also be used for other events such as outdoor concerts, corporate events, and sports tournaments.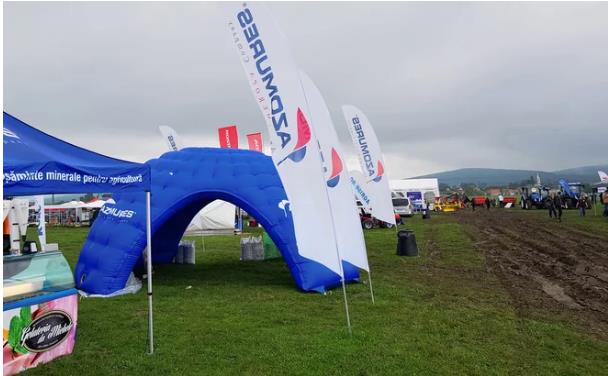 The role of exhibition tents in contemporary exhibitions
  1、Provide low-cost space solutions for exhibitions
  Exhibition venues often have certain restrictions on area and layout. In contrast, exhibition tents have more choices and freedom in terms of specifications and types. Therefore, the scale of many exhibitions is increasing year by year. When it is not enough, tents can be used as outdoor venues.
Of course, the main thing is to choose tents as auxiliary venues for exhibitions, or tent manufacturers can provide rental at only 30-80/sq. Because the exhibition cycle is usually short and the specifications required for each exhibition are not exactly the same, exhibition tent rental can solve the problem of exhibition space at a low cost!
Provide outdoor protection for exhibitions
  No matter what kind of activities are held outdoors, the weather factor is an important influencing factor, so the exhibition tent should first play the role of ensuring the normal holding of exhibitions and exhibition activities. At present, the mainstream exhibition tents all adopt aluminum alloy tent structure. The aluminum alloy material of the vacation tent has been tested by professional institutions for wind resistance and breakage, which can cope with bad weather and is safe and stable. The tarpaulin is PVC tarpaulin with knife-scraping coating technology, which can resist wind and tear, block light and rain, so it can prevent wind and rain, and ensure the event goes on as scheduled!
Provide good display effect for the event
  Although the main body of the tent is just a large net across the space, it can be set up as long as the internal space is reasonably planned, and the display area, rest area, functional area and other areas are divided into display areas. The tent is equipped with a reasonable layout. A good exhibition environment is no less than any indoor exhibition hall.